Livonia MI's Best Snow Removal Services
Improving your quality of life... outdoors!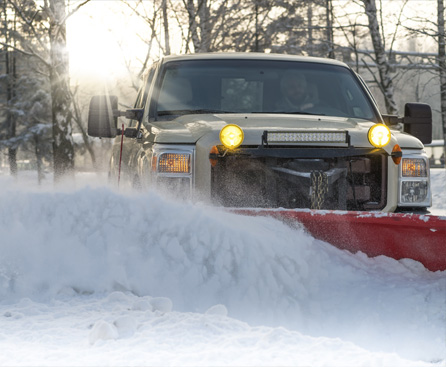 Living in Michigan as a business owner, winters can be rough in the greater Metro Detroit area.With the constant threat of snow storms creating unsafe conditions on our roads and sidewalks, you have to always be ready for the worst. One slip and fall or unfortunate car accident can lead to lifelong injuries, endless lawsuits and unmanageable insurance rates. We're here to take that responsibility off your hands. For all of your business Snow Removal services in the Livonia area, contact Landscape Gardens.
We have a family of sub-contractors that we have been working with -- some of them for more than 30 years -- who are the best at what they do in the area. There's a tremendous amount of specialized knowledge that goes into pulling off a large-scale landscaping project -- and that is exactly what we're best at. There's no property too large for our team. We have a large fleet of heavy-duty plows and salt spreaders, along with an experienced team of reliable snow management specialists ready to clear your property at a moment's notice.
---
Our Commercial Snow & Ice Removal Services Include:
Full-Service Site Management
Sidewalk Shoveling
Snow Relocation
Snow Plowing
Salt & Deicer Application
& More
We are committed to not only keeping your customers and employees safe, but to eliminate any hassles that could distract from running your business or keeping your customers satisfied. With that in mind, we strive to offer exceptional service and fast, reliable response times in even the toughest winter weather.
When it comes to clearing your driveway, parking space, sidewalk, entrance and more; our snow management experts will get the job done!
---
Landscape Gardens is the #1 Snow Removal Contractor in the Livonia MI area
Our Advanced Weather Tracking Methods Allow Us to Mobilize Fast! We utilize various local weather forecasters, year-to-date comparisons and weather modeling systems to predict exactly when the threat of snow is looming overhead. This allows us to be prepared to mobilize our extensive fleet of reliable snow plows and salt spreaders quickly and effectively.
"After disappointing contractor experiences, I was worried about the undertaking of my outdoor needs. Landscape Gardens managed every aspect of our project. Their attention to details and reaction to my needs were unmatched by today's standards. I can't imagine getting these results with any other company."
Dr. Paul Mackey, Washington Twp
Contact us today! We look forward to working with you to eliminate your snow and ice headaches this winter.